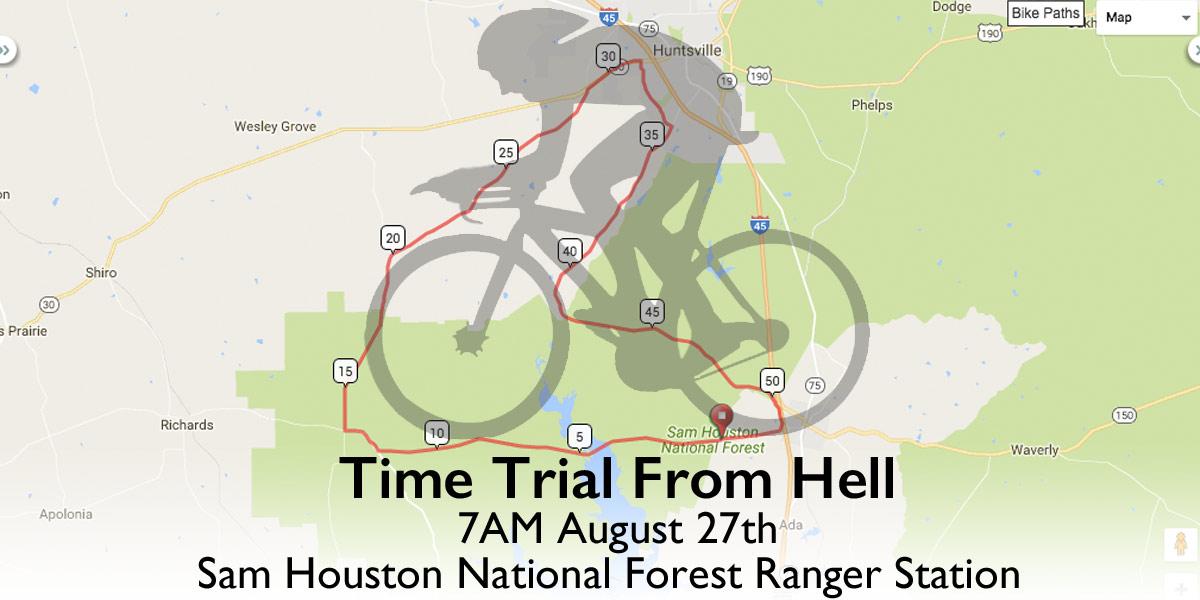 Time Trial from Hell
7AM August 27th, 2016
Michael Waldau has sponsored the Annual 54 mile Time Trial from Hell in New Waverly through the Sam Houston National Forest since 1993.
Check out our post about pacing yourself in a time trial.
STARTS AT
Sam Houston National Forest Ranger Station
394 FM 1375 West, New Waverly, TX 77358
Get Directions
MEET
​Arrive early for pre-race meeting at 7 am for warm up and registration. Event will start at 7:30 am.
THE COURSE
The same never-ending course through Sam Houston National Forest, 54 long, hilly miles!
GPS Map Elevation and Course
AMENITIES
None before and during the race, except maps and directions. But yes, you will find a great selection of recovery foods & beverages at the finish line (and maybe a memento) - but you have to get there first - alive!
DEAD SERIOUS
NO amenities means NO police protection. All roads open to traffic. NO emergency medical service. NO sag support. NO road markings.
JUST YOU AND THE CLOCK
accompanied by the heat & the pain & dogs & rough roads & Texas pickup trucks. You can count on it!
WATER HANDOUTS
Maybe, but come prepared for self-contained misery.
REMEMBER
This Time Trial is 54 long and lonely miles, so bring plenty of water, or be prepared to stop at a store, or die. 3 large bottles recommended as a minimum. Most people will need 4 or more.
AWARDS: Yes, for overall MALE and FEMALE
RULES (more serious stuff)
Helmets must be worn at all times on the bike; no drafting; riders will start at one minute intervals; tandems & teams welcome; waiver must be signed before start. Bringing a cell phone along strongly recommended. Emergency contact numbers provided.
VOLUNTEERS
Very welcome & needed at start and/or finish. Most needed & appreciated volunteer duty: water hand-off in Huntsville.
ENTRY FEE:
STILL only $5.00 (cash/check) per person!
Subscribe to Training With Power

Get notifications for new blog posts to help you become a stronger cyclist.