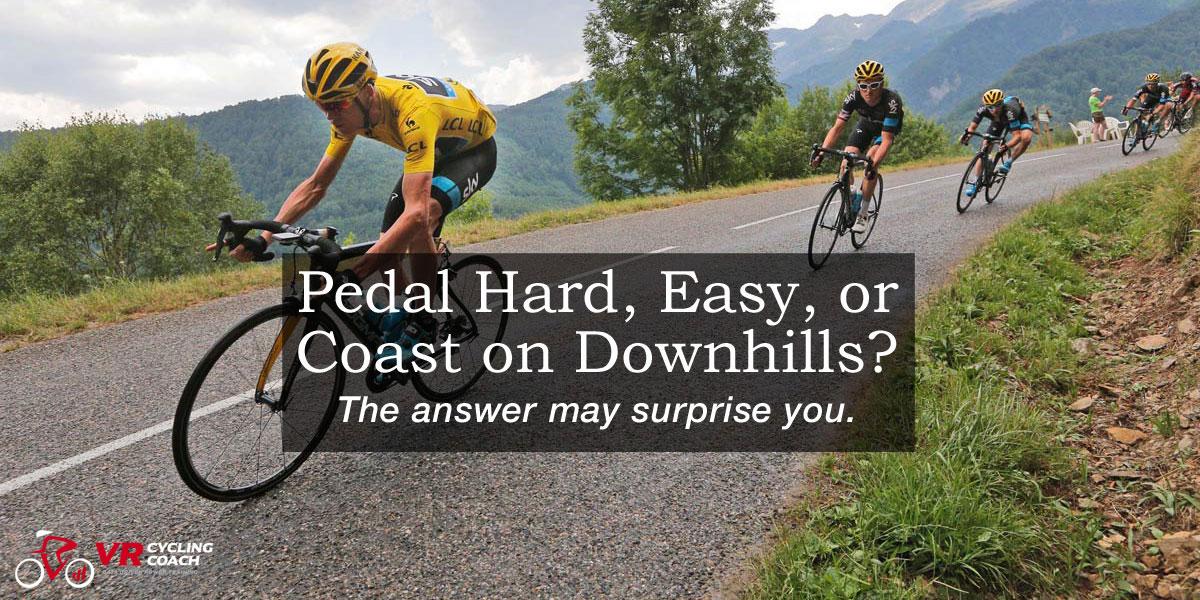 Should I pedal hard, easy, or coast on downhills?
These particular guidelines from Joe Friel's book "Power Meter", are more for racing against the clock (e.g. Time Trials and Triathlon) rather than a road race where staying with the pack is important for the drafting effect of riding behind someone else.
On a bike, the power required to go faster increases exponentially. This is because of the drag from air resistance.
For example, going from 20 mph to 25 mph is only a 25% increase in speed, but there is an approximate doubling of energy required to get that additional 5 mph. As speed increases, you must expend more energy to sustain that speed plus the additional energy to overcome the increased headwind.
Why this is important for cycling on descents?
Because as you go downhill and your speed increases, should you want to go even faster than coasting allows, the energy required to get those additional miles per hour will cost you significantly. If you try to go really fast by pedalling hard downhill, you're going to dip deeply into your carbohydrate stores while increasing the acidity in your blood. Doing that repeatedly will catch up to you. You'll eventually be forced to slow down due to wasted energy and acid-bathed muscles.
Guidelines for how to pace yourself.
When riding on fast portions of a course (downhill), ride easy, meaning use lower power.
When riding on slow portions of a course (uphill), ride hard, meaning use higher power.
The concept is:
Conserve energy when the bike is going fast (downhill)
Expend energy when the bike is going slow (uphill)
The longer your event is, the more important this is.
Like anything, practice is the key. When you go out for a ride incorporate the basic principle- ride slightly harder uphill, ride slightly easier downhill, and coast when you are at the upper end of your speed as shown in the table below.
The table below provides some of the best guidelines for this.
IMPORTANT - to train properly with power, you need to identify your Functional Threshold Power (FTP), by testing for it. VR Cycling Coach provides FTP testing and will customize your training program to guarantee an increase in power. See our coaching packages for cyclists and triathletes to learn more.
The 50-40-30-20-10 Rule
by Alan Couzens, Exercise Physiologist

If your goal power for the race is expected to produce about 19 mph, then...

WHEN YOUR SPEED IS

YOU SHOULD

GREATER THAN 31 MPH

COAST—GET AHEAD AND STOP PEDALLING

ABOUT 25 MPH

DECREASE YOUR POWER OUTPUT BELOW GOAL POWER

ABOUT 19 MPH

RIDE STEADY AT GOAL POWER

ABOUT 12 MPH

PEDAL A BIT HARDER ABOVE GOAL POWER

ABOUT 6 MPH

GO WELL ABOVE GOAL POWER
Subscribe to Training With Power

Get notifications for new blog posts to help you become a stronger cyclist.